the mini dishwasher
the mini dishwasher
From Ft139.900,00 – Ft151.800,00
Configure my Bob
  The only dishwasher made in France

Robust, designed to last 10 years

Eco-designed, made with 85% recycled plastic

  Shipped under 4 munkanap
Discover Bob the mini dishwasher within just one minute
Ils parlent de
Ils parlent de
Ultra-compact
Bob adapts to any space, barely larger than a microwave, Bob the mini dishwasher sits on your worktop, next to your sink.
It's the most compact dishwasher in the world! RVs, boats, vans, kitchens, offices… install it wherever you want, it's the most compact dishwasher in the world!
Small is beautiful
Bob is tiny but incredibly spacious, with a width of only 34 cm (13.4 inches).

Bob can accommodate plates up to 29cm (11.4 inches), a first for a dishwasher of this size!
Autonomous
Bob is the first dishwasher that can operate without a water supply thanks to its 3.9 liter integrated water tank.
Conveniently, the filling is done from the front, allowing to place Bob under a kitchen cabinet.
If necessary, you can also connect it to a water supply using
Flexible
Bob is inspired by professional dishwashers and features an adaptable basket that can be customized to meet your individual needs.
You can wash up to 16 glasses or cups in only 15 minutes, or your daily dishes in just 20 minutes!
Saving water
Did you know that washing dishes by hand uses about 15L of water for the same amount of dishes you can wash in Bob with only 2.9L?
In fact, Bob uses 5 times less water than washing dishes by hand.
Versatile
Bob the mini dishwasher has been designed to adapt to all uses and can be placed in all spaces.
With its 1.5m drain hose and Bob easyfix module supplied as standard, you can easily drain dirty water into a sink just like in a mobile container of more than 5 liters (jerrican, bucket, etc…).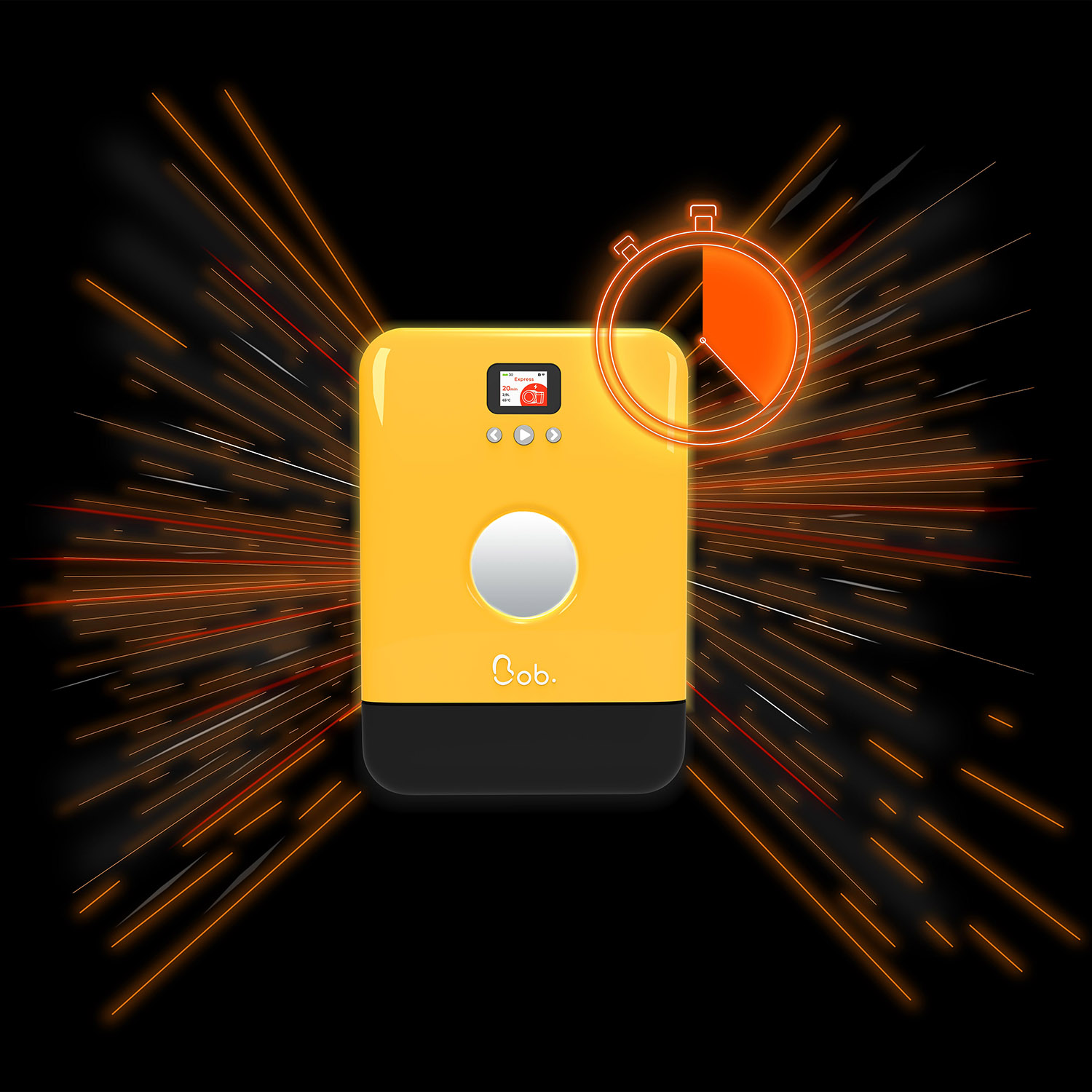 Ultra-fast
Let the fastest dishwasher in the
world surprise you!
Bob washes the daily dishes of
2 people in just 20 minutes (Express program).
Capacitive door opening

Bob is the first dishwasher to feature a tactile door opening.
When you touch the door, it opens automatically.

Condensation drying

Bob is the first dishwasher with automatic magnetic door opening. For improved drying, which is faster and better and consumes no energy at all.
Lighting

Bob features a light panel with LED technology that consumes little energy but is extremely bright to highlight your dishes and enhance the mood in your kitchen.
Specifications
Dimensions W x H x D
34 x 49 x 49 cm
(13,4 x 19,3 x 19,3 inches)
__________
EXPRESS cycle time
20 minutes
__________
Consumption
2.9 liters / EXPRESS cycle
__________
Antonomous
3,9 liter built-in water tank
__________
Weight
10,9kg (24lb)
__________
Power
1000W
Bob's configuration
Because we want your Bob to be in your image and adapted to your needs, we have imagined many possibilities of configuration.
Choice of screen, colors, basket, filling accessories or even detergents… It's up to you!
Screen
The screen is Bob's heart, along with his simple three button navigation he will be one of the main elements of your Bob's configuration. Choose between the minimalist screen, the black and white screen with a simplified menu, and the LCD color screen, the premium screen that will give you access to Wi-Fi and Bob's advanced features.
Minimalist screen
LCD color screen with Wi-Fi
Analog display
Black & White
Washing programs
Express, Daily, Intensive, Eco
Not compatible with Bob ultraviolet
Matte finish knobs(Chrome with colored door)
3.2″ LCD display
Colorful with BobOS 7
Washing programs
Glass, Express, Daily, Intensive, Eco
Compatible with Bob ultraviolet
Backlit buttons with chrome finish
Lighting customization
7 colors
activated
Custom wash cycle
Customization wallpaper
Custom ringtones
Bob cassette automatic renewal
Plus d'informations

BobOS is the operating system developed in-house by Daan Tech.
3 keys of simplicity. A 320px LCD screen. Bob speaks directly to you through his color interface.

Bob+ is a non-binding service that offers new features to your Bob. You can for example activate the automatic renewal of Bob cassette.
Doors
The door is Bob's charm asset. Whether matte or shiny, in shades of gray or colored, with a chrome finish or not, one of them will seduce you!
Have you made your choice yet?
What if I want to change doors in the future?
Are you moving, changing your decoration or want to change the door according to your wishes? Change doors at any time with Bob door!
Discover Bob door
Baskets
Whether you have a basic use or multiple and specific needs for Bob, we have planned for you two offers of basket that will adapt to your uses.
Simple basket
Your needs are basic? You just want to be able to wash the dishes daily for 1 to 2 people?
Choose the simple basket:
Improved basket
Do you want more modularity? Be able to wash up to 10 plates, up to 16 glasses or cups?
Choose the improved basket:
1 module 6 plates+ 1 extension 4 plates
2 glass modules
+
1 Bob extraglass
(6 glass modules)
Optional or already included *, you can disinfect all kinds of objects in 20 minutes: Masks, dishes, wallet, keys, etc.
The UV-C module kills 99% of bacteria and viruses with a waterless cycle.
* UV-C module as standard on Bob Premium Pack versions
Bob 2-in-1: mini dishwasher and UV-C disinfection
Discover the module with ultraviolet technology designed by Daan Tech
Daan Care is a Daan Tech service that allows you to ensure optimal use of Bob over time. Because accidents can happen, Daan Care is a 3-year warranty extension for your Bob that allows you to benefit from Daan Tech specialized technical assistance free of charge for individuals and professionals.
3 year extended warranty
After-sales assistance
Sending spare parts and video tutorials
Return and free repair of your Bob
Our commitment



We are committed to keeping our environmental footprint as low as possible through many measures.

Eco-friendly
We believe it is important to use as much recycled and recyclable plastic as possible to minimize the impact our industry has on the environment.

Bob is the only dishwasher that is made from 50% recycled plastic and all our Bob cassettes are reusable.

Sustainable packaging



Our values are also reflected in our choice of packaging.
Bob and all the options you can order on our website are packaged in recycled cardboard . These are also printed with natural ink. We try to avoid unnecessary plastic in all our packaging solutions.
Repairability
Daan Tech's design office designs innovative and ergonomic devices adapted to new applications. Intensive testing ensures maximum durability and compliance with the most demanding standards. Bob the mini dishwasher is designed to last at least 10 years.
We are an industrial company committed to the environment and strongly opposed to planned obsolescence .
Made

in

France



We decided to develop and manufacture Bob the mini dishwasher in France to revive this sector in a sustainable way.
Today we are the only dishwasher manufacturer in France. In the last 12 months, Daan Tech has successfully created 40 new jobs.
Be part of our community

We hope to welcome you soon as a member of the Bob community, and if you are already part of it: thank you for supporting our mission and working together with us for a better future!